Posted on February 3, 2009 at 11:15 pm
First, let me say that Firefox is totally awesome. My favorite part is that it lets you customize it until the cows come home (or you manage to crash your system). I've also set up this wonderful bit of software on a number of computers, and usually give it at least a subset of the following options. This list is mostly for me, but hey, why not put it out there?
Before we get too far, feel free to grab this totally sweet icon to put in your totally sweet dock (or GnomeDo / Docky, if you can get it to work right):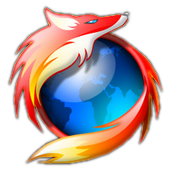 Critical
AdBlock Plus
All-In-One Sidebar
AutoPager
Download Statusbar
PDF Download
Session Manager
Speed Dial
Tab Mix Plus
Webdev
Firebug
Linkchecker
Greasemonkey
ErrorZilla Mod
MeasureIt
HTML Validator
Communication
Gmail Manager
Blank Canvas Gmail Signatures
Delicious Bookmarks
Look n' Feel
CustomizeGoogle
Locationbar2
Personal Menu
Yet Another Smooth Scrolling
FaviconizeTab
While I'm talking about it…
…does anyone out there know how to do a bulk add-on installation? All-In-One-Sidebar used to be able to do it, but now the Open dialog only lets you select a single file instead of multiple. This would turn the initial setup from a fifteen minute job into a sixty second job.
Greasemonkey Scripts
Wikipedia: Simple Research // a very clean and lightweight wikipedia skin
Gmail Air Skin 2 // takes gmail and makes everything better
Facebook Purity // Removes all ads and application messages
about:config settings
browser.urlbar.clickSelectsAll = true // first click on address bar highlights everything
security.dialog_enable_delay = 0 // removes countdown on extension installations
layout.word_select.stop_at_punctuation = true // double-click in address bar selects individual url segments
Utility
No comments for this entry yet...